So you want to start a blog but don't know where to start?
I'm here to help. In this guide, you're going to learn how to launch your own blog from scratch – even if you've never done it before.
Imagine being able to share your thoughts and ideas with the world. Imagine the sense of accomplishment you'll feel when people start reading your work and commenting on it. It's all possible, and I'm going to show you how easy it is.
Many blogs that go on to be successful first start off with a blog launch. Rather than just starting out with a blank website with no content, a blog launch occurs after you have built up a number of blog posts before making it public.
If this is your first blog, congratulations! Follow these simple steps, and in no time at all, you'll have your very own blog up and running!
What is a blog launch?
A blog launch is the planning and process that is done prior to making your blog accessible to the public, also known as 'going live'. Such tasks include creating a homepage, writing a small collection of blog posts, and an about page.
Why is a blog launch important?
The importance of a blog launch is so that there is new content for visitors to consume when they arrive. If you visited a website that was void of content, you probably won't return.
Types of blog launches
There are essentially two types of blog launches. The immediate blog launch is the first type. This type of launch is characterized by excitement and a surge of motivation. The other is a more planned and methodical approach.
1. Immediate
You quickly register a domain name and publish your first post on the same day. Things go well for about a week or two before you begin to lose interest as you do not have much traffic on your site. You might become discouraged and give up. This type of blog launch is all too common in the world of blogging. One is fueled purely by excitement rather than by careful planning.
2. Planned
The second type of blog launch is the planned launch. This type of launch does not occur the same day as your great blog idea unless you are a blog launching veteran. In that case, you are reading the wrong article 🙂
Rather this type of launch is built up to. You would plan out what content you want to have to populate your blog as soon as it is visible to the public. You would also perform research on keywords, select images that are appealing to both you and the readers, and create a blogging schedule that works for you.
Planning out the launch of your blog will help give it a much-needed boost as new blogs are popping up left and right. If you hit the ground running with a well-made, visually appealing, content-rich blog, then you will start well ahead of potential competitors.
7 Tips to launch a new blog like a pro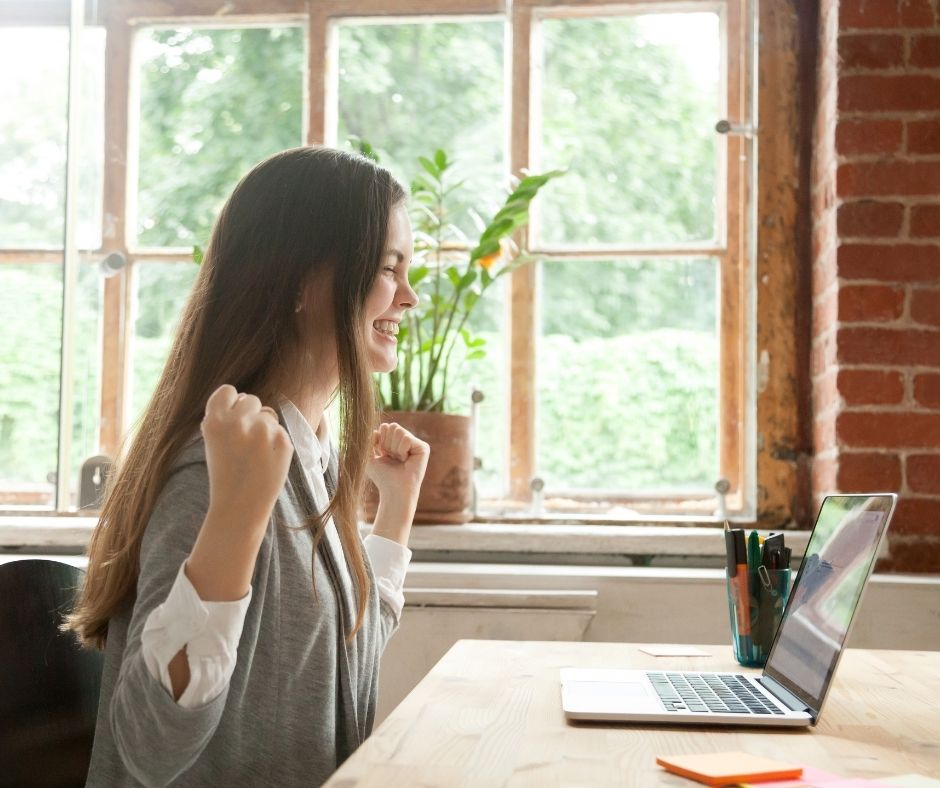 1. Know Your Blog Niche
Hopefully, the whole reason you started your blog was to talk about something that interests you. Something that brings you joy and that you hope to share with others. If you're thinking about starting a blog because of income opportunities, that's fine. Just be sure to choose a blog topic that you'll enjoy researching and writing about. It'll make it so much easier and more exciting.
Whether it's fitness, video games, bird-keeping, or interpretive dance, make sure that you research the topic you intend to write about. This is essential to build up credibility with your readers.
If you sound like you don't know what you are talking about, then readers will be hard-pressed to take your posts seriously. Having the appearance of competence in your chosen niche is essential in making sure your blog is successful. While you don't necessarily have to be an expert in your niche, you should at least know more than your target audience.
A sub-element of knowing your niche is knowing your audience. If your niche is covering new mainstream video games, it would be unwise to litter your posts with references from the 80s that your audience is unlikely to connect with. Likewise, if your blog caters to older history buffs, using modern slang will likely put them off.
No audience will be 100% homogenous in their age or cultural background. But it is wise to do some investigation into the types of people who tend to show interest in your niche to best tailor content to them. Knowing who your audience is will help you retain readers, allowing your blog to flourish.
2. Choose an Attractive Blog Theme
The design of your blog is not as important as the quality and relevance of your content, but it can still be a turn-off to new visitors if your website looks a bit amateur. A well-designed blog will help give a good first impression to newcomers, showing that you take your blog seriously. It will also make readers more likely to stick around, as they won't be greeted with an ugly or confusing website.
A good place to start is by selecting a blog theme that is visually appealing and easy to navigate. Make sure that all of your posts will be easy to find, with a top menu bar or sidebar that includes links to all of your latest content. Also, be sure to use an attractive font and sizing that is easy on the eyes. You don't want your readers getting a headache from trying to read your posts.
There are both, free and premium themes. Both have their advantages. The advantage of using a free theme is just that….it's free.
Responsive design
User friendly
Tech support
Updates
SEO friendly
Unique blog design
My recommendation… always go with a premium theme.
Advantages of a Premium Theme:
Increased confidence – Ever notice that you feel more confident after a haircut? Because when you look good, you feel good!
Appear more professional – Premium themes are typically better designed, sleeker, and more attractive, making you appear more professional.
Increased excitement – Having a good-looking theme can spark excitement, resulting in you taking more action.
Proves your commitment – Investing in your business is a sign that you are serious and committed.
ThemeForest is a great place that has tons of eye-catching themes to choose from. I've purchased many of their themes in the past to build my own blogs. A few things you want to look for in a theme are ones that are fast, mobile responsive, and aesthetically pleasing.
On the other hand, premium themes typically cost $30-$50 bucks but offer so much more:
3. Have a Backlog of Content
Before making your blog public, it would benefit you to have a number of blog posts written before launching your blog. This way, when it is time to launch your blog, you already have a number of new posts ready for immediate consumption by your visitors.
If you visited a website and it only had one article published, there's a good chance that you're probably not going to come back.
In order to have enough posts for your blog launch, you should come up with at least 5-10 posts beforehand. In these posts, decide on the topics that will be discussed and elaborate on them with research and data. Your blog posts don't have to be perfect. You don't have to be a great writer. You don't have to have an extensive vocabulary. You just have to be able to teach
For example, if you have a blog about fishing, then you should write some introductory articles on the different types of fishing rods and reels, types of lures, best times to fish, common mistakes, etc.
A backlog of relevant content will also allow you to space out your content so that there is always something new for visitors to read on your blog.
What matters is that you already have a small archive of content for your readers to digest upon launch. This will help readers to identify with your niche, as well as decide if your style of writing appeals to them. The more content you create, the better shot your blog has at success.
4. Make a Schedule
Having a plan is always the best way to approach a task. And relying on motivation to create great content for your blog is a surefire way to watch it fail to make waves. Instead of motivation, have discipline when it comes to writing your blog posts.
Once you have your list of blog topics to write about, decide how much time you will set aside each day to write each post.
Create a blog content calendar according to your desired frequency of posting. This will help keep you more organized, consistent, and on track. Set aside time for making titles, performing research, finding keywords, and other more mundane tasks that come with good blog housekeeping.
Equally important is setting aside time to actually create the content for your blog. Don't rely on random flashes of motivation or inspiration, have a routine. Set aside the same time every week, or even every day for content writing. Plan when you want posts to go live, and schedule when you want them to be published. Create a draft of posts ahead of time, so you can ensure that the timing and flow are correct for each post. Creating a schedule allows you to put in hard work on a regular basis, increasing your chances of success.
For example, your schedule could look something like this:
Monday: Publish and promote your blog post (social media, email list, Pinterest, etc.)
Tuesday: Research your next blog post
Wednesday: Structure blog post
Thursday: Write blog post
Friday: Optimize your post with SEO
5. Perform Keyword Research
Keywords are words or phrases that you might use when doing a Google search for something online:
mid-century light fixtures
what is google analytics
best shoes for marathon runners
healthy dinner ideas
how to get more blog traffic
low carb keto recipes
When someone makes an inquiry, Google then returns them a list of articles relevant to their search.
But why are certain articles at the top and not others?
The top articles on the first page of the search results didn't land there by accident. These bloggers and content marketers rose to the top using the very keywords that people are searching for in the search engines.
In blogging, keywords are essential in understanding what your audience is looking for. After you've chosen a keyword to target, you would then want to sprinkle your keyword in your posts as much as possible without making it cumbersome to read.
You also want to compile a list of LSI keywords to include in your article. LSI (Latent Semantic Indexing) keywords are words related to your main keyword. For instance, if your target keyword is indoor plant care for beginners, then some of these LSI keywords might include; indoor plant setup, best indoor plants, growing plants indoor lighting, houseplants, plant care guide, hard to kill plants, etc.
If you do a Google search for your keyword, scroll all the way to the bottom where it reads Related searches. Here you will find LSI keywords to include in your blog post.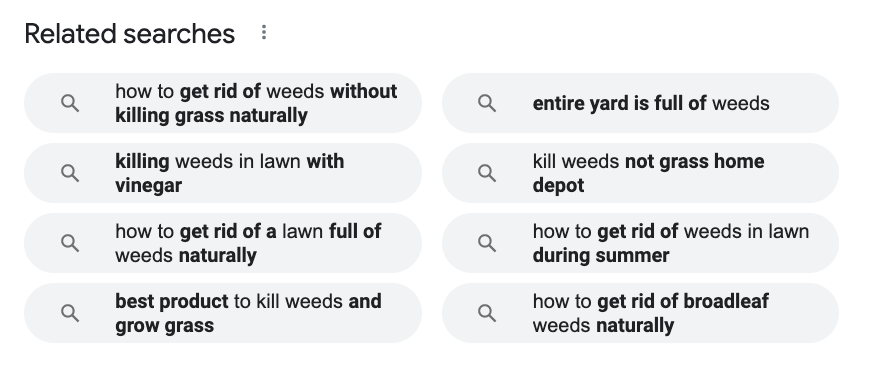 For a more in-depth and complete guide on keyword research, check out Ahref's article on How to do Keyword Research for SEO.
6. Optimize Your Titles
The next step is to spend time crafting enticing headlines for your new blog posts. Proper headline crafting can mean the difference between one post getting 10 views and another getting 100. Obviously, getting 100 views is ten times better than 10. But even more importantly, the right headline will ensure that your amazing content reaches the audiences that are interested in it.
Even if you have written the best blog post on your topic, if you can't entice readers to click on it, then they'll never know how great it is.
Headlines are typically what draws in readers. And since most blogs rely on titles alone to grab attention, proper headline crafting is essential. This will not be a problem if you tailor your blog content for your specific audience. As that will give you an idea of what kinds of titles to use.
For example, if you write a blog post to teach beginner golfers how to improve their putting game, then your title should reflect that.
The Beginner Golfer's Guide to Putting
Putting for Beginners: Tips and Best Practices
These titles are great because they're specific and target a certain group of people which is beginner golfers. People like to read articles that make them feel as if they were written specifically for them. The more targeted your titles are, the more visitors you're going to get.
3 Headline Writing Tips:
• Make it Relevant – This is general good blogging advice, but relevant means both related to your post and targeted at your audience.
• Make it Shocking – This is a more contentious point, not all blogs want to be shocking or edgy. But if your blog can pull off a compelling headline that's outrageously provocative, then the resulting traffic surge will help kickstart your blog into high gear. Just keep in mind that there are limits on how far you can stretch the envelope when it comes to shocking.
• Make it Specific – Don't make titles too broad or vague, this will end up drawing in general audiences who could end up getting frustrated because your content didn't match their interests. Details matter in headline writing.
7. Link to Relevant Content
Your new blog will most likely be competing with popular sites that are already well established. This means you will need to work extra hard to get noticed and stand out among your competitors. One way to do this is by linking out to other blog posts and pages.
A blog that endorses and links back to quality sources ends up looking like an authority on the topic. This makes it easier for your content to gain traction, which leads to more views and incoming links.
Both internal and external links are crucial to your blogging success.
Internal links are hyperlinks on your blog that direct visitors to other relevant content on your website.
The first place you should start linking out is within your own blog post. Linking out to your own relevant content will not only give your readers a chance to explore further but also gives you the opportunity to expand your blog's reach.
By linking to similar posts on your own blog, you end up building out a network of related content. One that makes for easy browsing while showing potential new readers exactly what they can expect from visiting your site.
External links are hyperlinks that direct visitors to relevant content on a different website.
Including links to other relevant content gives your own blog a better chance of showing up higher on results for specific keywords or topics, and end up drawing traffic from those audiences too.
Anytime you mention something on your blog that you that don't fully dive into, a good idea is to link out to content that does. This way your readers will get a deeper understanding of the topic.
If you have already written an article on the topic, then link to your content.
If you haven't written anything on it, then link out to someone else's content.
Linking to relevant content is an important step in your content strategy that will help build domain authority, trust, brand recognition, and loyalty.
Affiliate marketing also fits into this category. Including affiliate links into your blog posts is one of the best ways to monetize your blog while adding value to your content. Anytime you mention a product, link out to it. And if someone makes a purchase, you receive a small commission. Want to learn more? Check out my guide about affiliate marketing for bloggers.
8. Make Sure Your Website Works
Before launching your blog, make sure all the bells and whistles you have invested in work. Make sure every link on your blog leads to the proper page, that all your images are formatted properly, and that your contact information is spelled correctly. Nothing is more embarrassing than having technical difficulties on launch day. So testing the features of your blog before going public can help to avert that potential situation.
Website Speed Test: Analyze the load speed of your blog and learn how to make it even faster.
Mobile Responsive Test: Is your web page mobile-friendly?
9. Promote your Content
Marketing your blog before, during, and after your launch will help you end with a strong start. When promoting your new website, make sure the content is interesting and relevant to build up hype around it.
Your blog is a product. And like any good product, it needs to be advertised. Creating a dedicated social media account is a great way to spread the word about your blog. Have these social media sites for your blog be distinct from any personal social media you might have.
Posting excerpts of your content, with links back to the article, is a good way to generate traffic both for your social media, as well as the blog itself.
Other places to promote your content:
Pinterest
Forums
Quora
Reddit
Local blogging meetups
Guest posts
If you read other blogs that fall into the same niche as your own, interact with them on social media. Like, retweet, share, comment, etc. This will help get your name out there and draw in readers who are already confirmed to be interested in the niche that you plan to blog in. You can also promote your blog in any relevant Facebook groups you are a part of.
Want to get started with your own blog?
Get web hosting with Hostinger. This is my #1 recommended hosting company mainly because they offer such incredible support. This might not seem like a big deal at first, but trust me. In the beginning, you're going to make a lot of mistakes. You might break something on your blog and have no idea how to fix it back. To avoid spending hours figuring it out all on your own, Hostinger offers free and amazing round-the-clock customer support.
With only $1.99/month to get started, it's tough to beat. Their hosting plan comes with:
Free domain name (your blog name)
Free email account for your business
24/7/365 support (Anytime you need help, they got you covered)
99.9% Uptime Guarantee
100GB Bandwidth
Ready to start your own blog? Let's get started!
Frequently Asked Questions
Key takeaways for how to launch successful blog launch
Once you have decided on a niche, write at least 5 – 10 blog posts covering the main topics that you plan to write about. These should be sort of introductory articles that sets the foundation for subsequent articles.
Make sure your site has a homepage, an about page, and that everything works. All is left is to publish and promote your content, and to keep going.
After all of this planning and promoting, you have to follow through. Keep the momentum going by continuing to write fresh, high-quality blog posts to keep bringing in new readers and traffic.
One more thing…
Unless you get incredibly lucky, your blog is not going to become a hit overnight. It could take weeks or months of diligent content creation to build up an audience to your liking, but perseverance is your best friend in this case.
Blogging is incredibly rewarding. Especially when you write about topics that are dear to you. Having other people show interest in your niche is one of the best feelings in the world, so keep at it! The most important part of your blog is you after all. Without you, your blog would not exist. So do not give up and write to your heart's content.
If you've launched a blog before, I'd love to hear how it went.
How many blog posts did you have before going live? How long did it take you to launch? Feel free to post any other blog launching tips that you found helpful.
Even if you haven't launched your first blog yet but still have some questions, ask away!
Leave a comment below! I'd love to hear from you.